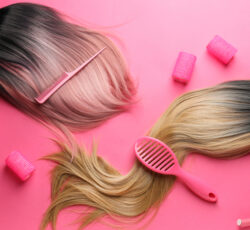 One of the key factors in maintaining the longevity and appearance of your wig is using the right care products. With countless options available in the market, selecting the right wig care products can be overwhelming. To make things easier for you, we have consulted with wig care experts to bring you their top recommendations for choosing the right wig care products.
1. Consider the Material of your Wig
The material of your wig plays a crucial role in determining the type of care products you should use. Synthetic wigs and human hair wigs have different maintenance requirements. Synthetic wigs are more sensitive to heat, so it is best to opt for care products specifically designed for synthetic wigs. On the other hand, human hair wigs may require more specialized care, including the use of shampoos and conditioners specifically formulated for human hair.
2. Use a Gentle Shampoo
While washing your wig, it is essential to use a gentle shampoo that is specifically formulated for wigs. Regular shampoos may contain harsh ingredients that can damage the hair fibers, leading to frizziness and tangling. Look for shampoos that are gentle yet effective in cleansing the wig without causing any harm. Additionally, avoid using hot water as it can negatively impact the color and the construction of the wig.
3. Choose a Nourishing Conditioner
Using a nourishing conditioner is essential to maintain the softness and shine of your wig. Conditioners help in detangling the hair strands and providing extra moisture to prevent dryness. Make sure to choose a conditioner that is free of sulfates and parabens to avoid any build-up on the wig. Apply the conditioner after thoroughly rinsing out the shampoo and leave it on for a few minutes before rinsing.
4. Consider Wig-Specific Detangling Sprays
Detangling a wig can be a challenging task, especially if it is prone to tangling. Wig-specific detangling sprays are designed to help ease the process of de-tangling and controlling the frizz while avoiding damage to the wig. Look for sprays that are lightweight and leave-in, as they offer added convenience for daily wig maintenance.
5. Opt for Heat Protectant Sprays (For Synthetic Wigs)
If you frequently use hot styling tools on your synthetic wig, it is crucial to use heat protectant sprays. Heat protectant sprays form a protective barrier between the heat and the wig, reducing the risk of damage. Remember that excessive heat can permanently alter the shape and texture of synthetic wigs, so it is best to avoid direct heat whenever possible.
6. Try a Wig-Specific Styling Gel
To achieve the desired hairstyle with your wig, using a styling gel can be beneficial. However, not all gels are suitable for wig use. Opt for wig-specific styling gels that provide the right amount of hold and control without being heavy or sticky. Avoid using excessive amounts of gel as it can cause build-up and make the wig appear dull.
7. Don't Forget the Wig Brush
Investing in a high-quality wig brush is a must for proper wig care. Wig brushes are specifically designed with wide-spaced, flexible bristles to prevent damage to the hair fibers. Avoid using regular brushes or combs as they can cause tangling and breakage. Regularly brushing your wig with a wig brush helps in maintaining its shape, detangling the strands, and distributing natural oils evenly.
Summary
In conclusion, choosing the right wig care products is crucial for keeping your wigs looking their best. Consider the material of your wig when selecting care products, and opt for gentle shampoos and nourishing conditioners. Additionally, wig-specific detangling sprays and heat protectant sprays (for synthetic wigs) can be incredibly helpful. Using wig-specific styling gels and investing in a high-quality wig brush completes the care routine for your wig. With these expert recommendations, you'll be equipped to choose the right wig care products and ensure the longevity and beauty of your wigs.
Got Questions About Wig Care? Let Us Help!
Welcome to LaDonna Roye Hair Stylist & Hair Loss Solutions! LaDonna Roye Hair Stylist & Hair Loss Solutions is here to help with all hairstyling and hair loss solutions! We carry a wide selection of wigs and hairpieces. Whether you're going through chemotherapy or are simply experiencing hair loss, we have the hairpiece that will complete your look. We carry many brand-name wigs and hair products, including Paul Mitchell, Jon Renau, and Halo Couture. Our technicians are extensively trained in all areas to ensure you get quality hair care! We're an American Hair Loss Counsel accredited facility and work with Look Good Feel Better. Call us today!