Topical Thickening & Hair Regrowth Products
There are numerous ways to positively address thinning hair, without the need for an invasive surgery. One option is to use topical thickening and regrowth products. When used rightly, these clinical-strength agents turn the scalp into a healthier environment for new growth. This, in turn, can encourage the follicles to work as they're supposed to, restoring the normal hair growth cycle. We are pleased to provide our clients with custom solutions and safe, scientifically-backed topical products.
There's more than one way to prevent hair loss—and for some clients, the best option is to use topical thickening and regrowth products. These clinically-calibrated, medical-grade solutions address unhealthy scalp conditions, allowing the follicles to resume normal, healthy growth. When used rightly, such products can stop hair loss and allow for a full, healthy head of hair. Our consultants can talk with you about the different products we offer—all of them proven to be safe and effective—and we can recommend a custom line-up of products to address your hair loss needs. This represents a non-invasive way to curb or even prevent hair loss, and we invite you to learn more about the topical products we have to offer.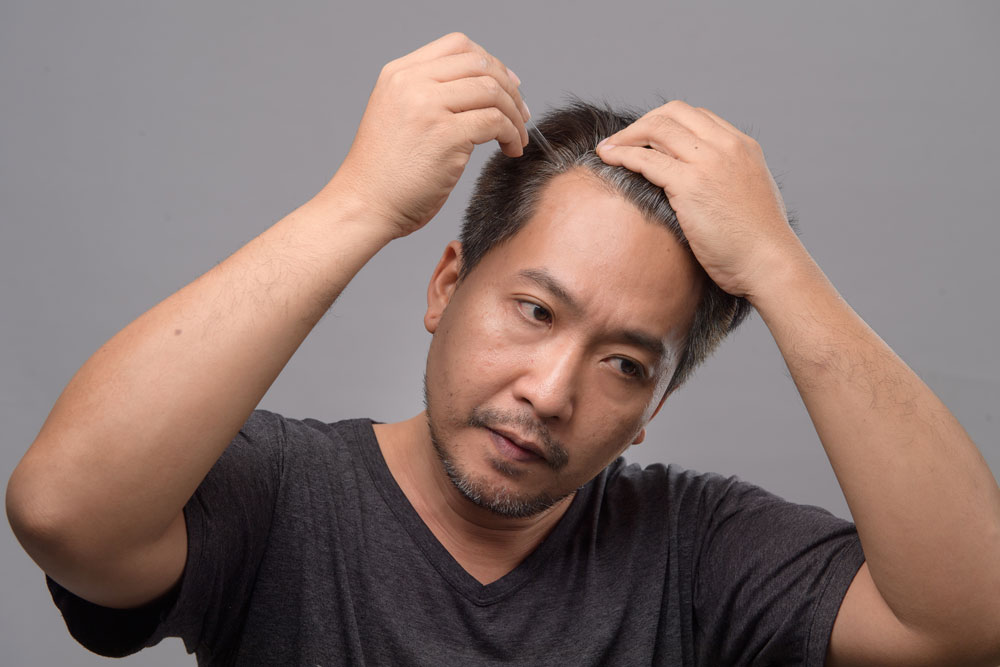 Minoxidil Hair Regrowth Products
When it's used for the right type of hair loss, Minoxidil can have great results for men and women. If your thinning or hair loss is caused by DHT, this topical solution may work alone or combined with another option. We'll help you decide if it's the right option for you.
An FDA-approved medical hair restoration method rounds out our array of options. Minoxidil is a safe, effective topical solution that is available over the counter. This DHT blocker combats hair loss caused by Androgenic Alopecia.
DHT Blockers Fight Androgenic Alopecia
In Androgenic Alopecia, hair becomes miniaturized because the hormone DHT interferes with the natural growth of hair follicles. DHT bonds to each follicle, preventing nutrition from getting in and shortening the life cycle of the hair. Minoxidil is a DHT blocker that works by preventing DHT from bonding to hair follicles. The treatment improves blood flow in the scalp and widens each hair follicle. Minoxidil allows hair to grow back thicker and healthier, and it extends the growth cycle.
Minoxidil Is Safe And Effective
Minoxidil has very few side effects and is available over the counter. When used to treat Androgenic Alopecia, it has been proven to promote growth and prevent thinning and future loss. After your consultation at LaDonna Roye Hairstylist & Hair Loss Solutions, you'll understand whether and why Minoxidil is an effective treatment for your hair loss. If it is, we'll consider additional options that could get even better results from this or other solutions. You won't know until you visit us, so contact us today!