Laser Hair Growth Therapy
Laser therapy is an effective way of preventing thinning hair for men and women with certain types of hair loss. Treatment requires regular in-office visits that can decrease in frequency over time. Cool therapeutic lasers deliver light energy that promotes scalp health, stimulates new growth, and prevents future thinning and hair loss. It's a painless technique that maximizes your natural growing hair and works well with other solutions.
Laser therapy is a relatively new tool for fighting hair loss, and it's effective. This painless, non-surgical treatment fights hair loss from the inside out by stimulating the natural processes that make your hair grow. Since there are no medicines or side effects, laser therapy can be combined with other solutions like Minoxidil to get even better results. While no one solution works for everyone, laser therapy can work wonders at various stages of thinning for people facing specific types of hair loss.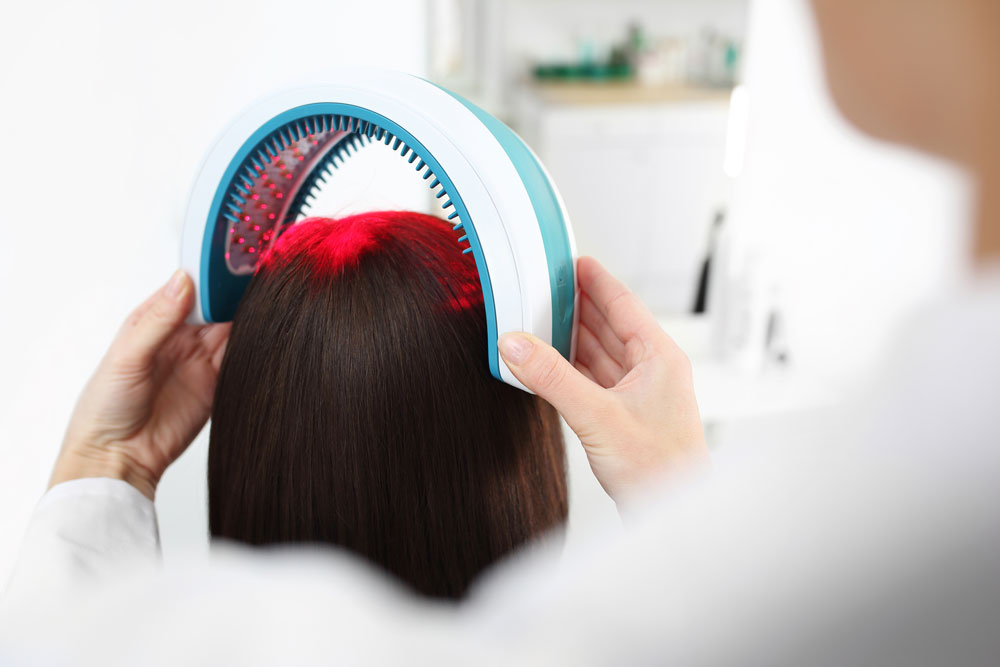 How Laser Therapy Works
It improves hair follicle nutrition.
It promotes circulation and clears blockages to growth.
It reduces the impact of DHT in Androgenic Alopecia.
It improves the physical health of the hair and scalp.
It rejuvenates hair that has entered the resting phase of growth too early.
It helps your hair grow longer and thicker.
What To Expect
Making a decision about laser therapy starts with a private consultation. If laser therapy works for your type of hair loss and you still have plenty of remaining hair, we'll recommend a regular treatment schedule. You'll visit our office frequently at first to receive painless laser treatments. As you see results over time, you'll likely be able to visit less often. Most of our laser therapy clients begin to see a difference after 4 or 5 treatments, with the most significant results emerging after 6 months to a year.
Explore Laser Therapy At LaDonna Roye Hairstylist & Hair Loss Solutions
Laser therapy provides a great way to increase the effectiveness of other hair replacement methods, or to slow hair loss while you consider your long-term options. It can be used as an alternative to topical solutions, surgery, or non-surgical enhancements, or it can build on the success of other methods to deliver even better results. The most dramatic results are often seen in young people or those in the early stages of hair loss, so don't wait. Make the most of your natural, growing hair by contacting LaDonna Roye Hairstylist & Hair Loss Solutions today.