Hair Toppers for Women
A great solution for thinning hair are toppers, a partial top of head hairpiece that provides added fullness. Think of it as a hair extension on top of the head. Customized to your unique needs, toppers come in various sizes, shapes, color, texture and methods of attachment. As with wigs, toppers can be synthetic or human hair, hand tied or machine made, or lace front.
What Are Toppers?
Toppers are hair added to the top of the head. A topper can be the best of both worlds, adding fullness on top as well as extra fullness and length on the bottom as desired. Think of it as a hair extension on top of the head. Toppers work great for women who wear their hair short and just need extra coverage on top and can cover up that awful part that many women get in the back of their crown area.
Hair loss is not always as complete or dramatic as chemotherapy induced hair loss or Alopecia Universalis. These conditions usually require a full wig to camouflage their hair loss.
Conditions such as thyroid disease, diabetes, or hormonal changes cause diffused hair loss or thinning on the top of the head. For this type of hair loss, the best solution may not be a wig at all. Instead a "Top of the Head" hairpiece or "Topper" may be what is needed. Toppers offer so many benefits. Interested in a topper? Shop our collection!
Comfort
Toppers are lighter weight and more comfortable in the warmer weather. Correctly attached, you can forget you have it on. There are several methods of attachment. The most popular are pressure sensitive clips. These comb/clips attach to your natural hair holding the piece in place and should be removed before sleeping, showering or swimming.
Another technique is to create a small braid around the perimeter and sew the hairpiece to the braid, thus allowing for continuous wear until required maintenance.
Bonding the hair to your scalp with medical grade adhesive is also a great option. This works well for women who have advanced hair loss on the top and not enough hair to clip or braid. Bonding allows the hair to be worn continuously, even while sleeping, showering or swimming. This method require maintenance after a few weeks.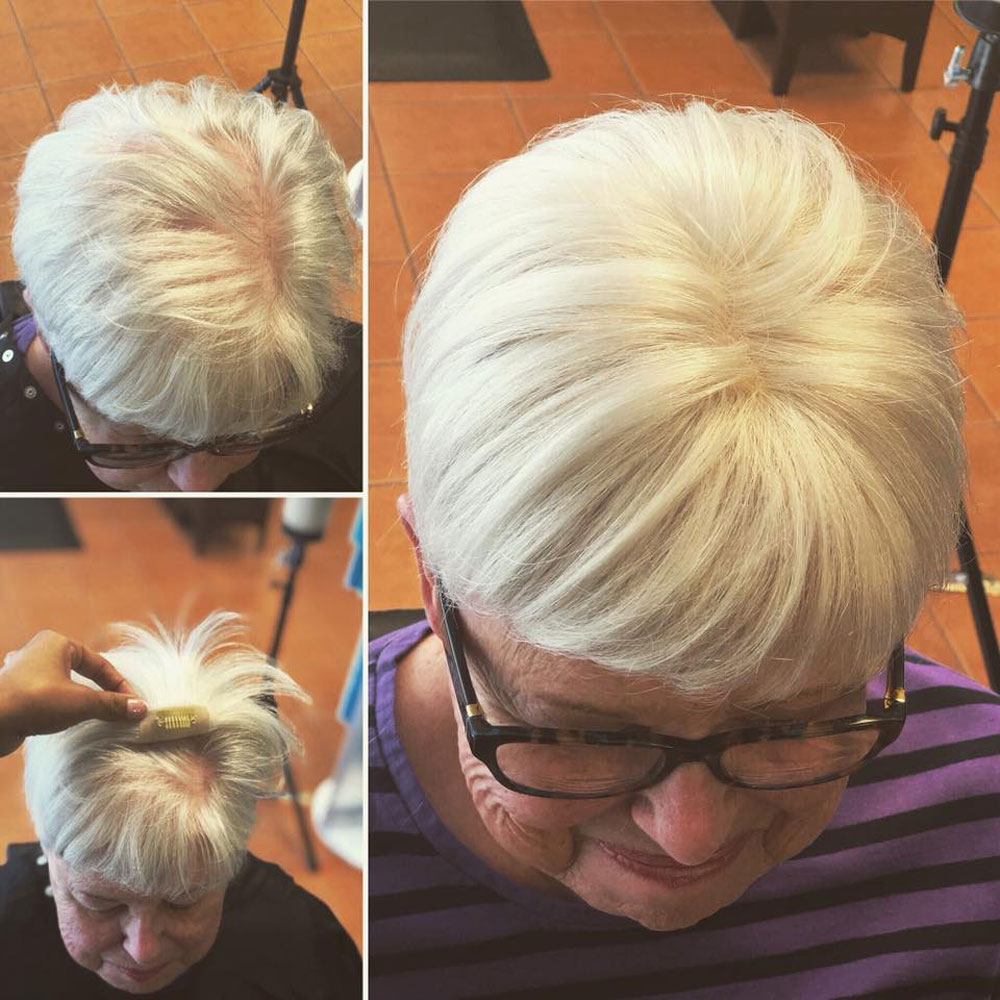 Natural Appearance
Toppers allow for as little or as much hair needed to the top of the head and then blended with the rest of your hair, making it virtually undetectable. Toppers can hide regrowth and help extend color and highlighting services. Toppers can be colored to exactly match your hair, or in reverse, your natural-growing hair can be colored to match or blend with the toppers.
Versatility
Wear your hair pulled back in a pony tail or up-sweep, using your own growing hair from the sides and back, creating any hairstyle that you desire. More hair gives you complete versatility.
Added Fullness Where You Need It
Whether you want more bangs, additional height in the crown, or to cover up that pesky spot on the back of your head that parts and lies flat, a topper can accomplish that and more. Some women do not have enough hair for a natural hairline and lace-front topper can create a fantastic alternative.
Saves Time And Money
Many women find that color retouches are not required as often because the top of the head is usually the first to show re-growth. Additionally, daily routines of styling can be drastically lessened when not trying to camouflage hair loss.
For Medical Hair Loss Clients
Many chemotherapies today only cause hair thinning, so a topper can add hair and conceal the hair loss.
And, it can be removed for treatment as needed. Several of our clients are using the "Cold Cap" during chemotherapy. Their hair still thinned but they were able to use toppers during their treatments instead of going to a full wig. Often women are just not ready emotionally or in the amount of hair loss to wear a wig. A topper can be seen as "just a little help" but many people tell us they are a "Lifesaver"!
It is important that you seek qualified medical advice if you are experiencing unusual or extensive hair loss. There could be a underlying medical condition that needs medical treatment.
Schedule your free confidential consultation at LaDonna Roye Hairstylist & Hair Loss Solutions to explore what toppers can do for you.